Pro s'ocasione s'Orchčstra Jazz de sa Sardigna at a propņnnere in Tątari tres cuntzertos incumintzende dae su 14 de abrile, prevģdidos dae sa de dņighi editziones de su "JazzOp"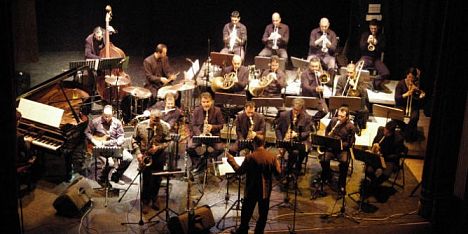 Tątari - Torrat s'apuntamentu cun sa rassigna de produtziones originales "JazzOp", organizada dae s'Assņtziu Blue Note Orchestra (Abno), chi ocannu at a presentare tres produtziones originales. At a incumintzare su 14 de abrile cun s'ispetąculu "Flamenco Big Band" de su sassofonista e composidore Perico Sambeat e at a sighire su 26 de maju cun "Lapses of Silence (The Art of American Song)" de Luigi Giannatempo, unu progetu cun młsicas de Samuel Barber, Leonard Bernstein, Aaron Copland e Charles Ives cun Marta Caviglia. Su tziclu at a agabbare su 21 de ląmpadas cou "Jazz a Cinecittą", iscritu e diretu dae Marco Tiso.
Sa de dņighi editziones de sa rassigna perņ, no at a čssere s'ocasione pro presentare sas produtziones noas de s'Abno ebbia, ma finas sa manera ideale pro tzelebrare sos 25 annos de atividade de s'Orchčstra Jazz de sa Sardigna.
Custa editzione noa "JazzOp" est organizada cun su contributu de s'Assessoradu a sas Culturas de sa Comuna de Tątari, de sa Regione Sardigna, de su Ministeru de sos Benes Culturales e de sa Fundatzione Bancu de Sardigna, in collaboratzione cun s'Assņtziu Triatatą e su Cineclub Sassari. Sos primos duos cuntzertos ant a čssere in su Teatru Comunale de Tątari, mentres s'łrtimu in su Parcu de Monserratu e giai dae como at a čssere possģbile comporare sos billetes solos o sos abonamentos.
In sa foto: orchčstra de "Jazz a Cinecittą"
Commenti